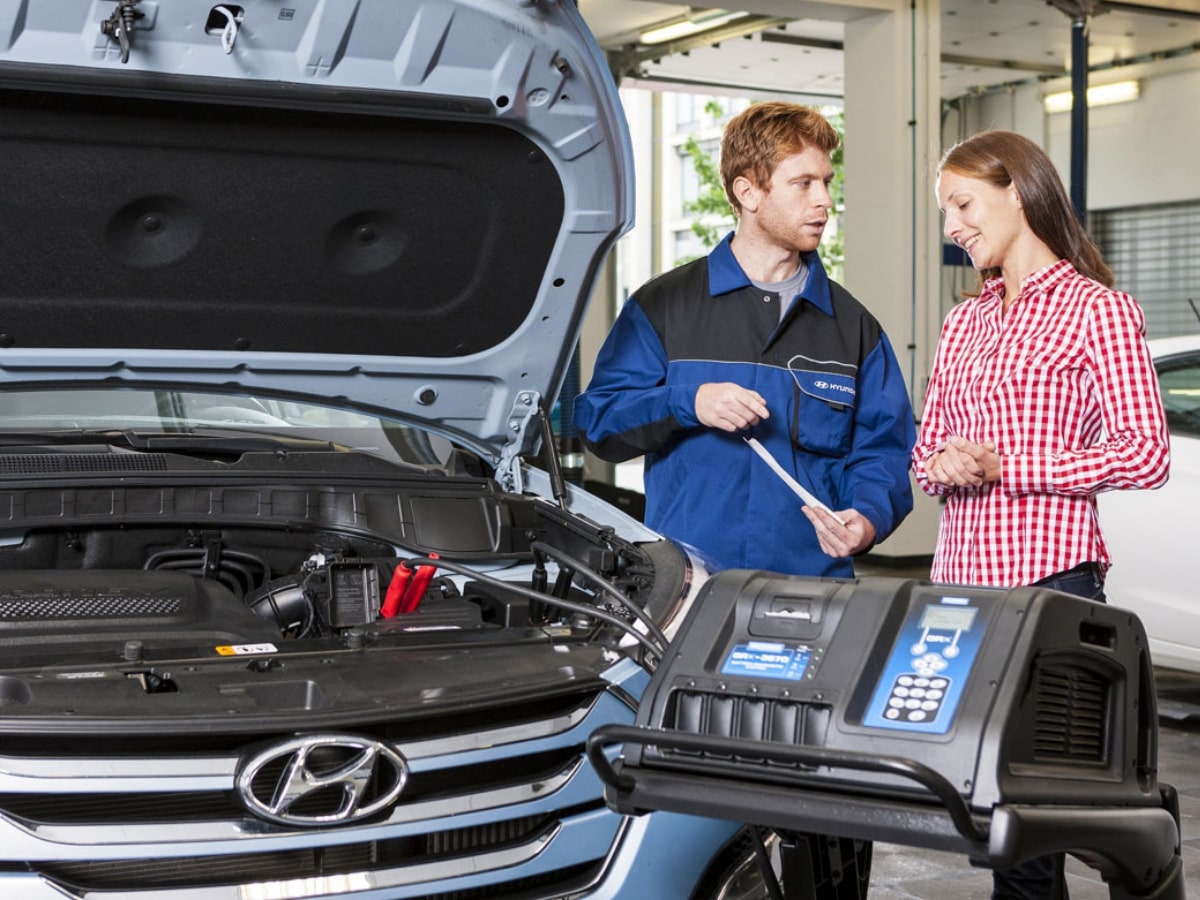 Battery Problems Revealed with Hyundai Battery Testing & Inspection in Columbus, OH
Quite a few automotive system problems are directly or indirectly related to the car's battery. For example, when Columbus and West Jefferson drivers find that their car engines won't start quickly, it could be because the battery's components have degraded. The car also might have a lot of unexplained problems with its lights, especially its headlights. The car's headlights might not be as bright as they were previously, and the car might use electricity less effectively in general. Grove City and Columbus drivers might also notice that their 'check engine' lights are now active, even though the car otherwise seems to be fine. Our technicians at the Germain Hyundai dealership can take a look at cars that have these issues.
---
Complete Hyundai Battery Replacement
The car's battery itself will often visibly degrade if it's old enough. In many situations, the battery's case will appear to be damaged when the battery is old. The connectors will also show signs of corrosion. Columbus drivers might also notice a strange smell. Our Germain Hyundai dealership technicians will sometimes be able to tell that a battery is too old right away. However, some older batteries won't immediately seem like they're in bad shape. Our Hyundai service center has effective car battery inspection and testing services available, and our technicians can identify any car battery problem. If it's been five years since the last automotive battery was replaced, our technicians will usually suggest that customers replace the battery anyway.
Automotive Battery Lifespan
Some West Jefferson and Grove City drivers are able to use specific automotive parts for a particularly large amount of time if they're able to drive very responsibly. Regular automotive maintenance can certainly help almost all Hyundai automotive components remain usable for years. However, even cautious Hilliard and Columbus drivers won't be able to use their car batteries for six years. Car batteries only have a five-year lifespan, and some of them will fail after only three years. Still, the Dublin drivers who try to use the same automotive batteries will be taking a major risk in the process for over five years. Even if it seems like these old batteries are still working, they could still fail suddenly.
Similar Electrical Problems to a Failing Battery
In numerous situations, the problems with the car might be caused by the car's alternator and not the battery. A damaged alternator can also cause the car's headlights to flicker or lose illumination. Getting the car started initially can also be an issue for West Jefferson and Hilliard drivers when there are issues with either the alternator or the car's battery. Our experienced professionals at the Germain Hyundai dealership can figure out the genuine source of the problem and make repairs.
  Schedule Service
Service Hours
Monday

7:30AM - 6:00PM

Tuesday

7:30AM - 6:00PM

Wednesday

7:30AM - 6:00PM

Thursday

7:30AM - 6:00PM

Friday

7:30AM - 6:00PM

Saturday

8:00AM - 4:00PM

Sunday

Closed